Assalamualaikum, May peace be upon you.
Here's the deal: I almost didn't want to write this because these books were read more than a month ago and I am your humanised Dory. At least Dory remembers the P. Sherman address thing. Anyways, I feel like my "Back to December" series doesn't feel complete without having bookish matters – especially since I was doing well compared to my devastating bookless semester in Autumn 2015. So without further ado, here are books I've read:
Not including Art of Travel by Alain De Botton since I stopped reading it after I reached home soil – travel books should be read while travelling, no?
Angels and Demons / Dan Brown / 3.2 out of 5 / Book 1 of 4 / Thriller Adventure
It was initially a slow read for me with Langdon's (MC) fanboying Illuminati facts going over my head. Since I was so used to reading proses like Murakami it took me a while to re-accustom to the crispier reality of adventure and "science" fiction. It did pick up a notch towards the end in which I am grateful for. A personal highlight for me was the theme of Science vs. God and although it is as expectedly controversial, it was intriguing to read – especially when it touched about my religion. I had a few disagreements but the fact that it made me reflect and reconfirm my faith was refreshing and thought-provoking, in which I commend Brown for his attempt.
The Introvert's Way: Living A Quiet Life in a Noisy World / Sophia Dembling

5 out of 5 / Non Fiction
Man are narcissistic in a way that they love to read anything about themselves and understanding how they work (just the scientist side of me?). So as an introvert, reading this was a delight. Being introverted herself, Dembling wrote it based on her own experience: to which I would actually suggest to rename her book as "An Introvert…" rather than "The Introvert…". There are flaws in that aspect (because introspection is a large scope of grey – there are things she explained as an introvert that some people and I didn't experience) but the 5 stars are completely subjective to my own feelings – flaws and beauty combined. There were some science mentioned but I stayed for the humour. Recommended to those who are learning to love the part of them that aches for solidarity in a raucous party rather than to us who already know that they are kick-ass warriors (for you: Susan Caine's Quiet: The Power of Introverts in a World That Can't Stop Talking).
Confessions / Minato Kanae / 5 out of 5 / Stand Alone / Japanese Mystery Fiction
Literally just finished this in one sitting. I used to be such a [mystery] junkie but had somehow faded through the years but this has been such a fantastic comeback for me! While the language [took] a while to get used to, I have my times with Murakami to thank. Japanese translations are quite unique in my opinion, though I still am trying to piece together words to fully explain reasons for that. A major selling point to me was the style – multiple POVs with their own twists and thoughts and perspectives. And done brilliantly! I found out during the first chapter that I actually didn't know squat about the book prior to reading it, and I couldnt put it down until the delicious, satisfying ending. I would've wanted some more insight but it was still a good way to end for me. The book also showed a glimpse of the possible darkness of society in Japan and it had made it all the more raw and unnerving. Fantastic read. I'm excited to rave about it more if I get the chance. 100% recommended to thriller lovers out there!
(Review written on December taken from Goodreads Account)
Lullabies / Lang Leav / 1 out of 5 / Book 1 of 3 / Romantic Poetry
The book consists of poetry and excerpts and I find the description of the poetry more enjoyable than the rest. And by enjoy I meant the language rather than the actual message that Leav is conveying. Okay, I get it. This book is about l o v e. Maybe I'm not the secretly hopeless romantic that I thought I was but after the 1837833th poetry of basically slightly rephrased identical stories of loss and discovery, it BOUNDS to bore you even teensy little bit (Just me again?).
And can someone enlighten me about the actual purpose of the pepper of crude words? What is it trying to achieve? While I'm no saint, I just couldn't comprehend their sudden appearance and disappearance. At first you were innocently poetic about it and then you're not? Um, okay.
On a different note, I have always been keen with personification of abstract concepts but Leav kind of fell short with hers. Maybe it is just my inability to understand and that's probably my fault.
Don't get me wrong, I didn't read the whole book with a frozen frown, but more often than not I find myself rolling my eyes or skimming through. Of course, I totally understand that people have their own preferences on the way they want the concept of Love to be presented, but I can't help being disappointed at how shallow (for lack of better terms) the representation looked to me. Please tell me, does loss and love only includes sweet nothings and empty promises? It felt like eating pieces of bread while expecting a sandwich. You are destroying my poor appetite.
I am no stranger to "bad books, lovable characters" and I was actually hoping that it would be the case to save this review but ALAS! The characters are selfish, ignorant and so full of themselves when it comes to their perception of love. I get that that would be an ideal for some, but I wouldn't like that experience for myself, thank you very much. While love is a healthy necessity, I wouldn't want to be obsessed by it and to be fully consumed by someone because of it, like what this book suggests to me. But it does remind me of foolish, young love that are common in media material, so maybe that's it, and I've been misunderstanding it the whole time. IDK.
I remember asking myself "Where does 'Lullabies' come from in this book?". When I found the passage that might have inspired the title, I was again, HUGELY disappointed. Thats it? Bummer. In hindsight, I should've cut it some slack considering this is my first book under the poetry genre but darn it, I was pretty excited by the hype! And the cover and art are gorgeous. Sigh.
At least it was a light read and I finished it off in about an hour or so. Will I read the predecessor? Most likely not. The successor, "Memories"? Only if it comes with ice cream.
(Review taken and edited from Goodreads Account – I wrote the original RIGHT after I finished reading it, which was at 1AM and the review was full of drunken mistakes. But I can say my review tastes better than Lullabies. The aftertaste is horrid.)
Paris Letters / Janice Macleod / 4.5 out of 5 / Memoir
I glanced at the cover and blurb and assumed that it was another cliché fiction of a woman uprooting her life in Nowheresville and moving to Paris and falling in love with a man you can't communicate with. Oh how ravishingly wrong was I. This autobiography of a memoir is a reality to my fantasy. Here is a list (because everyone loves lists) of why I loved it:
Paris. Travel. (Sadly) brief treks in Scotland and Italy. Travel. Paris. Dreamy, dreamy Paris. French. Franglish. The City of Lights' delicious description!
Art. Painted Art. Painted Art in LETTERS. Even the black and white scans of them are gorgeous! Don't lie and say you didn't think of picking up a brush after this book. I DON'T ART??? BUT I WANT TO ART!!
An intimate, graceful, and whimsical self help guide to ditching everything and not leaving havoc while you do it. (AND THEY ARE BABY STEPS TOO. IT IS ACHIEVABLE PEOPLES THIS IS A THING AND WE CAN ACTUALLY DO THE THING IF WE WANT TO).
DID I MENTION THE ABOVE INCLUDES LISTS. She created lists as her summary of how she managed to do what she did. May I remind you that I everyone loves lists?
The list, and also a significant amount of her early chapters included her exploration of declutterizing her life.

MINIMALISM. ALL THE YES

. She had my (in progress) minimized closet and room thanking her.
Romance is a thing here obviously. And while it does tickle me, most of the time I didn't really care much other than the previous matter. At least it's a better love story than Twi I mean Lullabies. Sorry, it's a habit.
Obviously it's not perfect, since none of the whole corporate burnout shenanigan was relatable to me in any way – and the Mr. Miyagi thing was… well, let us not touch on that. I fasten my pace on those parts but the list kind of makes up for it. Can't help that my stars are as stubbornly emotional as I.
Paperweight / Meg Haston / 2 out of 5 / Stand Alone / YA Contemporary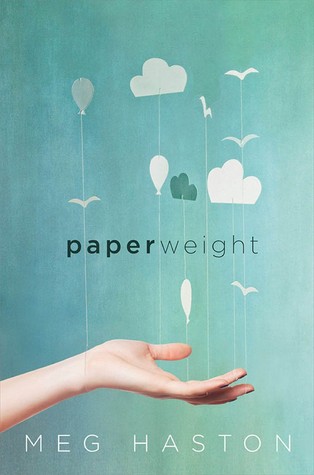 Sue me. I deserve it. Even I am surprised at how stone cold my heart is. The book talks about the heaviest matter: loss, deception, mental illness. This book is MADE for tears. It is made BY tears. Regrettably, I am out of tears. And that saddens me. Out of all the books, why does contemporaries written for emotion are the ones my stars aren't particularly emotional to???
I MEAN LOOK AT THE BEAUTIFUL COVER. Ahem. As the book was based on Haston's own experience, it kind of doubles my pain. WHY AM I NOT ENJOYING THIS MORE?? Sure Stevie is a prick, but she (kind of) tried not to in the end? Considering all those, the book was insightful towards the many ranges of eating disorders and root of problems. There were even science in this. I am a scientist and enraged at my inability to appreciate this more than I am right now.
I guess I am still having a mainstream burnout. Which is highly preternatural considering I haven't been reading many contemporaries with loss, deception and mental illness… oh. (*eyes All The Bright Places I read by Jennifer Niven the month before* How awkward.) Extraneous to that, the point is I am unaffected. These are not unfamiliar to me. I guess, I read too much. Gasp. Yes, yes. Cut me away from the bookworm cult – I JUST SAID THE SENTENCE-THAT-MUST-NOT-BE-SAID – It is the depressing truth of our overwhelmed generation. Originality is scarce. Either that or I may just be related to Raven Symone because I am getting real good in predicting outcomes. And that just takes away the fun in things. And the sad in things. And being a literary junkie means that I yet again crave for prose that remains unsatisfied.
Bottom line is I AM A DISGRACE so don't take my word and just read it. It's decent…
Sort of.
The Shock of The Fall / Nathan Filer / 2 out of 5 / Stand Alone / YA Contemporary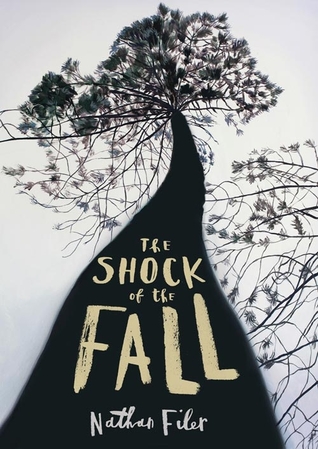 Abstract
Hypothesis: The hardness of my heart. Experiment: Read promised heartbreaking YA contemporaries. First attempt resulted with the acceptance of the null hypothesis of 99% significance in the H(e)ar(t)d-O-Meter.
The experiment is repeated to abide to the general rule of scientists: repetition. The result further establishes the theory.
Methods and Material
With a reference to the Paperweight Review; CTRL + C, CTRL V.
The only anomaly in the data was the fact that this poor family was blighted by Down Syndrome AND Schizophrenia, in which I stand by my prior hypothesis: "…loss, deception and mental illness (x2)".
Conclusion
When searching for credible sources in contemporary reviews, the author is not one to be recommended due to her high state of emotional instability towards the subject.
Total books read in December: 7

Overall taste: Bittersweet.
Thus concludes my Back to December series! Hope you all enjoyed it. I used to have a hard time committing to blogging so I am quite pleased with the outcome. I can't believe Pause and Refresh has reached its third year (as notified by the WordPress staff)! Alhamdulillah thumma Astaghfirullah. Refresh intentions always and may Allah continue to bless and guide us. Allahumma Ameen. There aren't many readers (if there are any) but I guess the years of blogging into the abyss just kind of makes me used to it. Plus, I'm doing this for myself! It's so satisfying after you click the Publish button after all that work. Alhamdulillah, all good things come from Him.
Check out the other parts of the series:
and finally… (Not So) Petite Book Reviews ❤